QuoteWerks Leasing Integration
Leasing Overview
QuoteWerks has built-in lease payment calculation support. You can very easily offer your customer the option to purchase or lease the quote. QuoteWerks makes it effortless to give the customer multiple lease choices such as 12 months, 36 months, FMV purchase, $1 buyout, 0/1 upfront payment, etc. As the quote total changes, the lease payments automatically re-calculate!
All leasing companies are supported, simply enter your leasing companies lease rate factor data into QuoteWerks.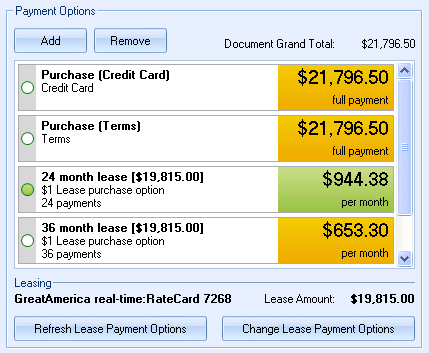 QuoteWerks Leasing Integration and QuoteValet
When the quote or proposal is delivered using QuoteValet, as the customer changes options, the lease payments are automatically re-calculated to reflect the new quote total. The customer can choose to purchase the quote outright or can choose a leasing option.
Real-time with GreatAmerica Financial Services
Webinar: 5 Ways to Update Your Proposals to Close More Business

Watch this webinar to see how you can use QuoteWerks to simplify your quotes by offering lease payment options to your customer. GreatAmerica discusses the benefits of leasing and we demonstrate how to offer these options seamlessly and easily in QuoteWerks

Webinar: Create As-A-Service Quotes with QuoteWerks and GreatAmerica

During this webinar we discuss the changing landscape of displaying quotes and proposals as a single monthly payment to simplify the sales process for the customer. This webinar will demonstrate exactly how this can be done in QuoteWerks utilizing our leasing functionality.

QuoteWerks supports a real-time leasing integration with GreatAmerica Financial Services. Offer leasing options to your customers via GreatAmerica without leaving QuoteWerks!
When you select your GreatAmerica lease card, the real-time query to GreatAmerica will enable you to see all the lease options available from GreatAmerica such as terms, advance payments, points, and purchase options. Just select the combinations of options you would like to see and GreatAmerica provides all the iterations of those combinations. Once you've had a chance to see them, you can choose which ones you would like to offer to your customer. The QuoteWerks Real-time Module is required for the GreatAmerica integration.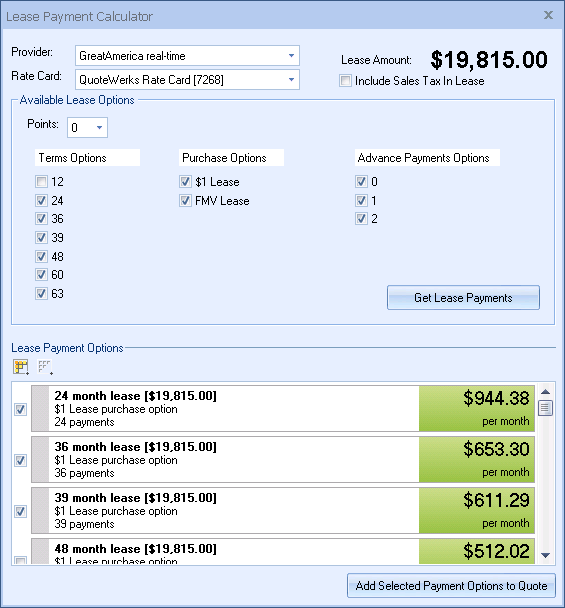 Sample Lease Rate Card
QuoteWerks enables you to create, edit, and maintain your own Lease Rate Cards. If you do not have a Lease Rate Card in your ..\QuoteWerks\LeaseRateCards folder, you can save this file (SampleLeaseRateCards.xml) to that folder location.
The QuoteWerks Online Help Documentation has additional information about using, adding and editing Lease Rate Cards.
Leasing Templates
If you are upgrading QuoteWerks from a version earlier than Version 5.0, you will need to download these templates which have the changes in them to display the leasing and payment options. You can then apply your changes to these layouts or you can see what changes are in these layouts and copy those changes to your existing layouts. These layouts are the default layouts that are installed with a fresh installation of QuoteWerks version 5.0.
©1993-2017 Aspire Technologies, Inc.
407-248-1481 (9am-5pm ET M-F)